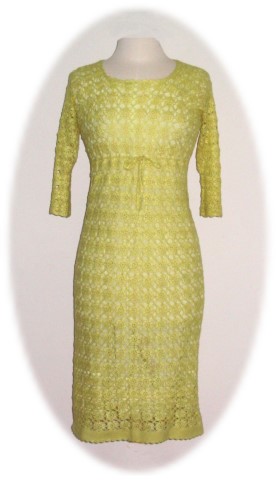 Point to photo to see pattern detail.
Price: $8



This is a beautiful crocheted dress. I made it long time ago when I was a teenager. However, it still is very fashionable dress and my niece enjoys wearing it. The dress consists of individual motifs that are joined together as the work progresses. It has a wide square shape neckline and ¾ length sleeves. All edges, including bottom edge, cuffs, neckline are decorated with a few rows of single crochet and a row of scallops which adds to the beauty of the design.

Level of Experience:




Sizes:
Small, Medium, Large

Finished Measurements: Materials:
Lace weight yarn, 100% Acrylic, approx. 1800 yd (1646 m), 2110 yd (1930 m), 2500 yd (2286 m)
Steel crochet hook size 7 (1.5 mm) or size to obtain gauge
Lining fabric in matching color
Three ¼" (6 mm) buttons for back
Sewing needle and matching thread
Stitch Gauge:
If you have already purchased this pattern and have received your password you can download it now.





This file is in Portable Document Format.
If you do not have a PDF reader you can get your free Acrobat Reader®